Goddess Aurora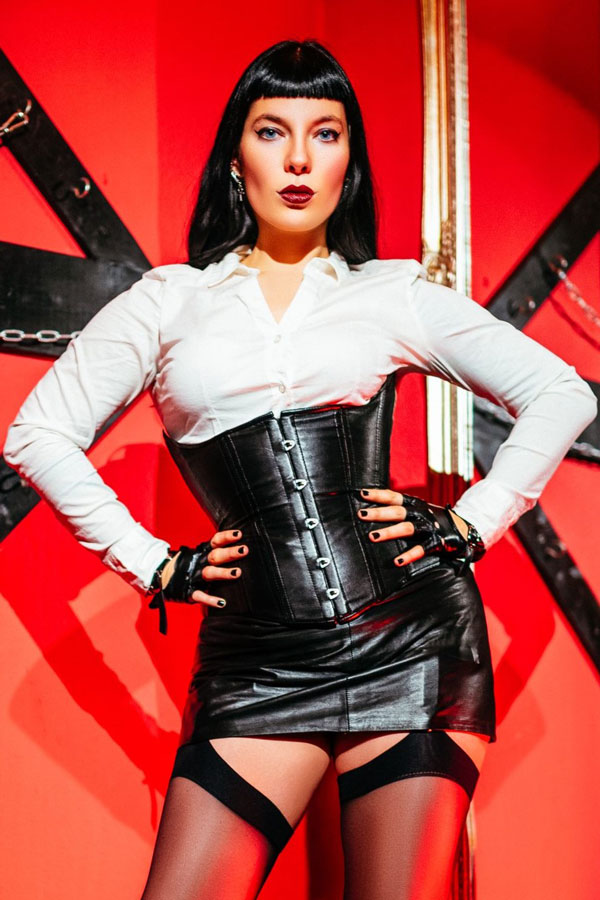 Experienced dominatrix
I am an experienced dominatrix for many years and enjoy living out my inclinations and preferences in a professional setting. For me, BDSM is a concept of life and is always more of a reality than a game.
When you play with me, I will be your adorable goddess, supreme authority, or active game director. Sometimes charming, sometimes malicious, I will lead you to your abysses and balance with you along your limits with relish. I will sensitively capture your wishes and needs and build on them.
For this I will skillfully use all my advantages. With my sensual curves, the elegant movements and the animal-grazing look, I will completely absorb you.
At the same time, it is very important to me to reach you on a linguistic and interpersonal level. Due to my pronounced eloquence and my imaginative nature, I will not only shake your body, but also your head to the very foundations.
I not only feel a part of the BDSM scene, but also of the Gothic scene for over 10 years. I like to incorporate this preference into my game. I love clothes that are typical of the scene, the dark and morbid and like to support my sessions with appropriate music.
As a lover of the black scene, you are in good hands with me.
My game is always safe, sane and consensual. I also respect the basic idea of the risk-aware consensual kink. In short: Your safety and your comfort are my top priority.
In return, I expect to be treated with respect, as well as respect for my limits and taboos.
All genders are welcome with me. I am particularly happy to receive inquiries from couples.
Preferences of Goddess Aurora:
IMPORTANT NOTE: Due to the current corona crisis and current hygiene regulations, some of the services/preferences mentioned may not be offered. Please observe the applicable regulations.
Dominance and Submission
Role play (e.g. castration, teacher-pupil, interrogation)
Verbal eroticism
Black masses, satanic rituals
Humiliation games
Flagellation / spanking
CBT
Nipple treatment
Sensory deprivation
Foot and shoe erotic
Trampling
Stimulation current
Feminization, sissy play
pet play
tease and denial
Fixation and bondage games
active AV games, strap-on
Chastity
Usage games
Long term education
Corsets
High heels, boots
Nylon stockings, tights
Lacquer, leather, latex
More on request