Goddess Aphrodite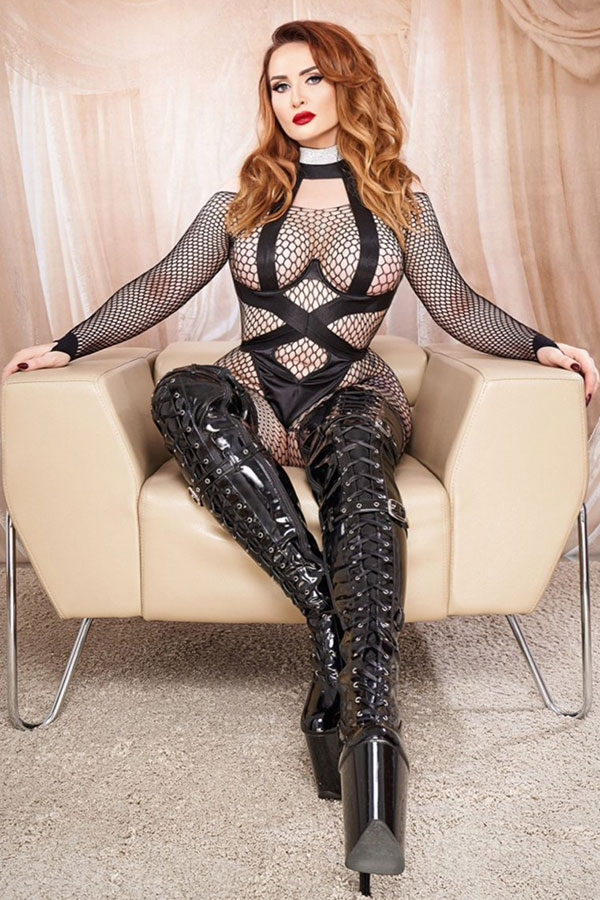 Dates VIP Lounge Elegance
10.10. - 11.10. , 06.11.- 07.11., 19.11. - 20.11.
My fetish is the psyche of man
(formerly Letitzia)
Being dominant does not mean forcing someone to do something. To be dominant is to make someone want to be forced. I dominate you in a calm tone and erotic voice, in every kind of dirty talk, role play, up to mindfuck.
I love to move to your limit and still demand a little more from you. Even as a beginner, you are welcome to me. I will guide you softly and in a variety of ways, because I know - thanks to the traitor between your legs - how far I can go and what exactly promotes your desire.
I am an authentic, multifaceted and diverse dominatrix. I also find access to many practices and fetishes. In the end, the core of your longing is always the focus for me. I know what is kicking you and so I do what I want with you. We come into our common flow and that is exactly what satisfies me.
To specialize in one topic on a permanent basis would not be enough for me, I want to experience more. My feet are an erogenous zone, I could put them in your mouth for hours and enjoy being pampered. My feet are very well-formed and well-groomed, I cannot serve with strong smells.
Everyone unites both genders, but the feminine side is often neglected for men. I am passionately happy to open Pandora's box and live this side out intensely with you.
CBT and Nipple Torture give me a lot of pleasure, which you can tell by looking at me; my slaves tell me that I smile all the time. With more intense pain impulses, I like to keep eye contact so as not to miss any of your impulses.
Over time, anal has become a specialty of mine. Knowing that my beginning has to be soft in order to build trust and help you relax, it gets more intense over time. But always with the necessary sensitivity. I especially like anal practices because I am inside you and from this moment at the latest there are no secrets from me.
I generally prefer submissive men and masochists.
Preferences of Goddess Aphrodite:
IMPORTANT NOTE: Due to the current corona crisis and current hygiene regulations, some of the services/preferences mentioned may not be offered. Please observe the applicable regulations.
Storytelling
Role plays of all kinds
Dirty talk
erotic touchable dominance
Anal treatments on you
Prostate massage
Intermediate seeding
Dilators
electricity
Flagllation (whipping)
Fixations
Feminization
TV training
Latex education
Rubber massage
Foot, high heel, nylon erotic
Ball busting
CBT
Nipple torture
tease and denial
Clinician
More on request
Goddess Aphrodite's Taboos:
OV, GV, practices that permanently damage your health