Lady Indre Baltic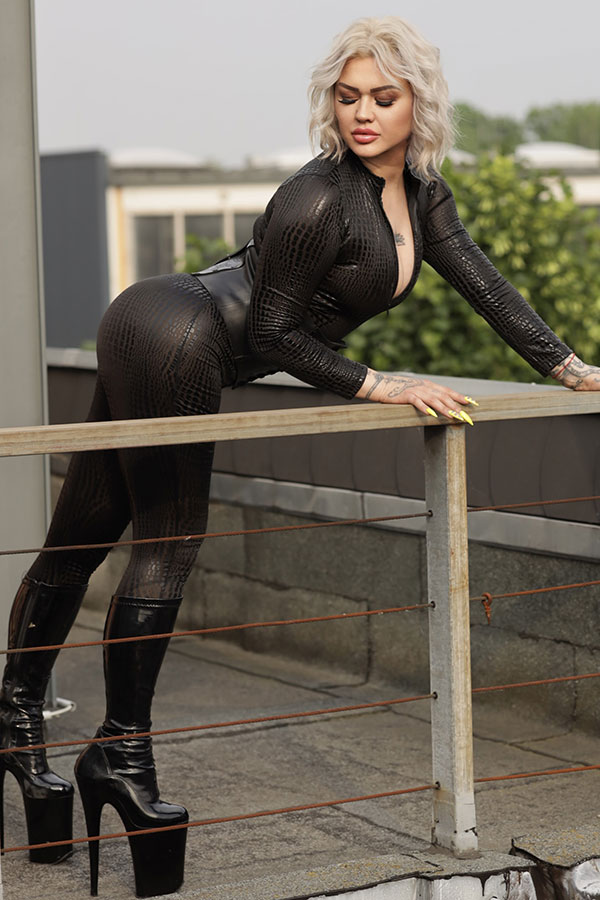 Dates VIP Lounge Elegance
02.10. - 05.10., 26.12. - 29.12.
Seductive dominance
Have you always wanted to make your darkest fantasies come true, but have never had the courage to do so?
Are you tired of your boring everyday life?
Then you are exactly right with me!
I am Lady Indre Baltic, born in Lithuania, but have been living in Germany NRW for years.
I am a self-confident young woman, sometimes a dominant lady and sometimes sensually seductive with an erotic charisma. A woman like you know from your dreams.
Beautiful, with an erotic accent, bittersweet and hard at the same time. I love playing with you.
Driving men and women equally crazy.
Carrot and stick as well as clinical games, feminization and fetishism are my passion.
I knew from an early age that men were inferior to me and had only one job - to serve me!
Extremely sadistic and strict, I really enjoy testing new limits. To use you, to torture you, to play with your lust and to beguile you with my charms. I can still be empathetic and understanding.
Despite my angelic appearance, I have mastered the skill of subjugating you.
I am there to fulfill your longings, to satisfy your deepest desires, to give you what you really need and what you deserve.
That's one side of me but there's another side too....
My exhibitionism - I enjoy making my sexual games come true in front of the camera. The thought of you getting horny and satisfying yourself turns me on.
So in my virtual life there are not only dominant videos but also pornographic ones, including with different actresses.
Or
You are a clinic friend, a passionate connoisseur of the white area. Then come to me and put yourself in the sometimes tender, sometimes hard or sadistic hands of Dr. Lady Indre Baltic.
Despite my youth, I am an experienced, passionate clinician who knows how to use my physical assets. I will get to the bottom of your suffering millimeter by millimeter. And if you are a naughty patient, I also like to use restraints, gags, masks and the like to continue my treatment in peace. And I have a lot of imagination and fun in this regard
Preferences of Lady Indre Baltic:
IMPORTANT NOTE: Due to the current corona crisis and current hygiene regulations, some of the services/preferences mentioned may not be offered. Please observe the applicable regulations.
Watching masturbation
Lack/leather/wettlok/latex
Kidnapping beginners
Golden shower/scat (active)
Spitting/Spanking
Urethral treatment
Facesitting with nylons, leggings
Face slapping/face slapping
Orgasm control
Verbal eroticism/dirty talk
fixation
Education from tender to hard,
Whore education
Feminization
Long-term education
Diaper training
Partner education
pair
Women's education
Pet play
Various role-playing games
demonstration
Training
Chastity
Imprisonment
Double session
Humiliation/humiliation
Strapon
Anal treatment
Anal stretching
Prostate massage
Fisting
Nipple play/torture
Cane/crop/whip
Foot & shoe eroticism
feet, nylons, heels
Electro treatment, games
Trampling
Ballbusting/CBT
Torture
bondage
Sadistically inclined
Menstruation fetish
Clinic games
Forced seduction
Interviews
Detailed investigations
Pulse and blood pressure measurements
Enemas
Surgical simulations
Nipple treatments (also extreme)
Testicular torture
Anal stretches
Fisting
Prostate massages
Strap on
Urethral stretches (dilators - urethral vibrator)
Forced ejaculation
Pampers/Bby parenting
Masks
Stimulation current therapies
Long-term therapies
Orgasm control
Shaves
Psychotherapies
Sensory deprivation
More on request
Lady Indre Baltic's Taboos:
Intimate contact, Vomit/Roman shower, Kiss, slaughter, castration, Animals