Lady Jiku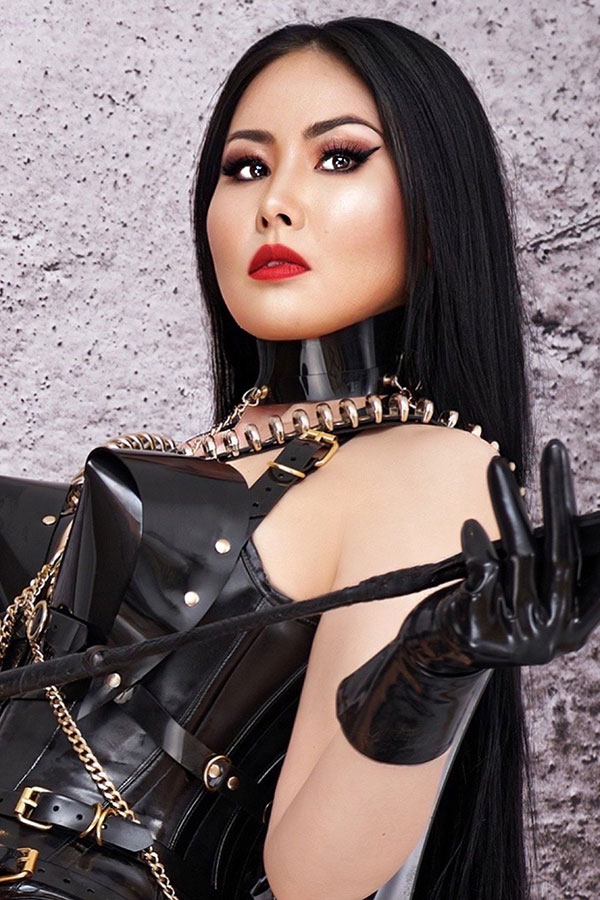 Japanese dominatrix with passion
I am your Goddess Lady Jiku. Everything comes from my blood and soul. I started my career at BDSM theatre. in Japan. I am purely Japanese , born and raised in Kyoto, Japan. Currently working in Berlin as an artist. BDSM session is a sensual art for me Everything must be Creative I love BDSM session because It is possible to discover New Idea , Passion, and Energy.
I am very attracted to the master and submissive relationship that can build trust and mutual growth. If you're looking for perfect mistress, I also want to train you as perfect slave. My session can totally make it possible to free your mind. I will make a special training for each submissive. I would love to tie up people so much, You will be my dog, toy, toilet, maid, furniture and Forever slave till you Die. I have specific Japanese bondage skills , which are called SHIBARI and KINBAKU. That is a Japanese word for 'to bind' or 'to tie up' and a Japanese style of bondage using complex and sumptuous patterns, also I combine a lot of toys, wax, whips, and secret custom made pleasure items.
Especially I would love to make a kinky human swing like a merry go round by bondage , which will be my nice couch.Also I would love to research your body. You will absolutely fall into never ending deep pleasure. First you should be on your knees in front of me. I will guide you through a secret fantasy. Obey me….You will perfectly be my submissive.
Japanese Bondage/SHIBARI/KINBAKU hanging and restrains /objectification session One of the most speciality play . I have lots of skills and experiences . around 2000 people more I tied up. There is so many different styles. highly recommended to have long session. So much effective of deep meditation/ Free mind also wellness of body and mind.
Let's go to another dimension together. CBT session I Love CBT. Show me your nature . Beg me more .Let's try your limit. Anal/Strap on and Urethra Pleasure research /expansion/ session It is also one of my favourite play. I have lots of Japanese toys for beginners too. Highly recommend to try my special bespoke Dilators. My hands/foot are really flexible, easy to do fist/double fist/ foot fist/etc Do you wanna taste my hands till armpit? Human Toilet session You will be my Toilet .Scat/ KV/Golden shower/ NS…etc Im not vegan but I Love organic food. Bring fresh fruits juice, Goldenshower will be sweet as heaven. NS available a lot anytime. Foot/ High heel/ Boots session Admire my beautiful foot. Clean up my high heels/ boots. Your position is under my sole. Sissy Education You will be my cute girl. Make up, Dress up, and Be My Bitch. Latex /Leather session. I Love leather / Latex. Time for shiny up.
Preferences of Lady Jiku:
IMPORTANT NOTE: Due to the current corona crisis and current hygiene regulations, some of the services/preferences mentioned may not be offered. Please observe the applicable regulations.
Japanese bondage hanging and restraints Anus play and expanding Dilator session expanding Nipple torture
Scat session
Lust & pain Whips
cane torture session soft to hard
Tease & denial
Discipline classic to bizarre Role play
Rubber sessions
Shaving play
Pet Play
Forced use objectification enslavement
Golden shower
Breath control
Mask training
Cage housing, imprisonment
Fisting
Overnight sessions
Face slapping
Spitting
Spanking
Klinik play
CBT
Chastity
Verbal humiliation and dominance
Electrical play
Trampling
Foot and shoe eroticism
Nylon
Beginner
Cross dressing
Further by agreement
Lady Jiku's Taboos:
Intimate, body contact, GV, OV, Vomit