Lady Lestrange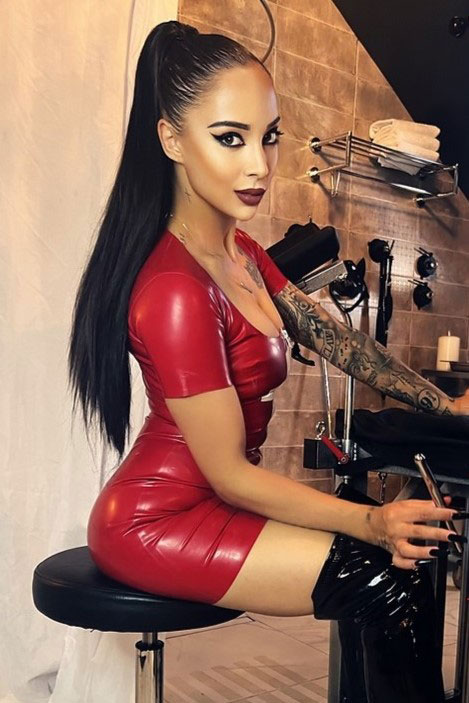 Passion and empathy
Welcome to my profile. You have just opened the first door, the first door into my endless world of fantasies.
You are greeted by a noble mistress who casts a spell over you at first glance with her seductive eyes, her angular cheeks and her taut, well-formed body. My wicked tattoos in combination with pure dominance will take your breath away in the truest sense of the word.
The game of erotic attraction and unyielding dominance is my natural passion. Empathy and intelligence at the highest level, paired with almost limitless. sadism and delight.
I will therapy your brain and send you on a journey of no return. You will be unconditionally devoted to me, your addiction to me will be almost limitless. be. Tease and denial is one of my specialties and yet only a small part of my countless facets.
I like to slip into well-known but also completely new roles, let myself be inspired by your fantasies, the more bizarre the hornier!
From easy education that leaves no legacy, to merciless punishment with a lifetime tag.
Tell me about your most depraved desires and most secret fantasies, let me form and realize our personal game of lust.
Clinical patients are also very welcome and receive thorough treatment, whether urological or purely aesthetic.
I recognize the little Sisii in you and make you my bondage, ready to be presented on the whore catwalk. Whether I use you for my personal enrichment or simply for my pure amusement, I'm still considering that and depends entirely on your obedience.

Lacquer, leather and very important... LATEX! I have a thing for wicked lingerie. I know how to use my charms individually and to pack them well. The absolute ecstasy: you in latex, whimpering kneeling in front of me.
I have now presented you with a rough overview of my character and my facets, now it is time for you to submit your fantasies to me. After all, every session is individual and a game between you and me, which I control.
My service goes far beyond what is described here, so put yourself in my hands, let yourself go and be rightly excited to see what awaits you. Because it will go beyond your imagination!
Preferences of Lady Lestrange:
IMPORTANT NOTE: Due to the current corona crisis and current hygiene regulations, some of the services/preferences mentioned may not be offered. Please observe the applicable regulations.
Anal treatment/stretching
Training as a pleasure slave
Adult Bby. Parenting
Breath control
Bondage
BW treatment
CBT
Cocooning
Crushing
Humiliation
Discipline
Ice Games
Disgust Training
Electrical stimulation
English education
Feminization
Tie up
Fisting
Flagellation
Foiling
Foot & shoe eroticism
Whore education
Clinic
Caged housing
Chastity
Scat
Gags & Masks
Latex
Paint & Leather
Long-term education
Sadist
Golden Shower
Objectification
Pet play
Queening
Equestrian games
Punitive Shave
Wrestling
Role playing
Make-up courses
Toilet Education
Trampling
TV education
Injections
Interrogation
Demonstration
more on request
Lady Lestrange's Taboos:
GV, OV, Intimate contact with the mistress, Mistress's nudity, unkempt appearance, Outdoors, Video recordings, real castration/sterilization, Drugs, Alcohol