Lady Lisha Lamour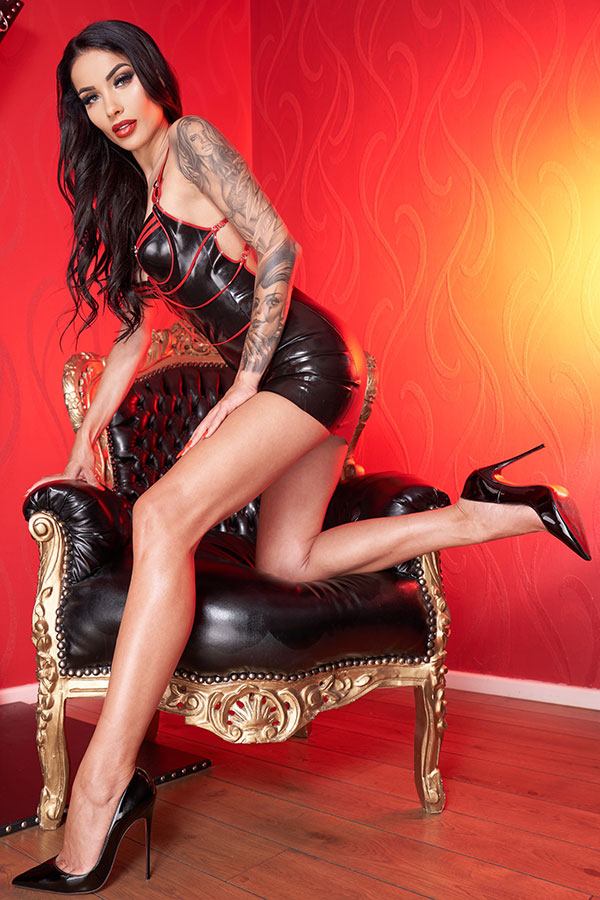 Dates VIP Lounge Elegance
15.11. - 16.11., 12.12. - 14.12.
Young, curious bizarre lady is looking for a dirty playmate
With my slight accent I enchant you as my slave.
What have you always wanted to experience in the black world? I'll take you on our journey together into fantasies, eroticism and pain.
On the one hand I am gentle as a lamb - on the other hand sadistic as the devil. You will see my grin on my face when I see your pain flash in your eyes.
I enjoy it to the fullest, covering my slim body in latex, vinyl and leather for you. You can not only admire my body visually, because I use it to drive you completely crazy, through touching, facesitting and... let me surprise you.
I am a true princess who should be treated as such by every slave.
I am a young dominatrix and I have a lot of fun practicing my new skills (training and seminars in Germany and Austria with a certificate) on you.
I look forward to your visit and to the new experiences that we will experience together.
Preferences of Lady Lisha Lamour:
IMPORTANT NOTE: Due to the current corona crisis and current hygiene regulations, some of the services/preferences mentioned may not be offered. Please observe the applicable regulations.
Tease & Denial
Dirty talk/verbal eroticism
Verbal humiliation
Black mailing
fetish
latex
paint
wet look
leather
foot eroticism
Shoes erotic (39gr.) / heels erotic
boots erotic
Nylons/stocking erotic
hairdresser fetish
CBT (cock and ball torture)
testicle torture
Dildo games active
nipple treatment
ball busting
BallCrushing (squeezing testicles)
crushing
trampling
bondage games/fixation
mummification
Masturbation on command
breath control (breath reductions)
Facesitting with breath reduction
gag games
pet play
Spitting
urethral stretching(dilators)
nerve wheels
anal play
fisting
Anal stretching with TOYS
butt plugs
prostate massage
Strap-on (multiple large)
electronic games
vibrators
pee
golden shower
Sperm to go
flagellation
Spanking/Spanking
cane
whip
paddle
whip
TV Education Feminization
Sissy training
More on request
Lady Lisha Lamour's Taboos:
intimate contact, scat, vomit, animals