Lady Lucia Lucifa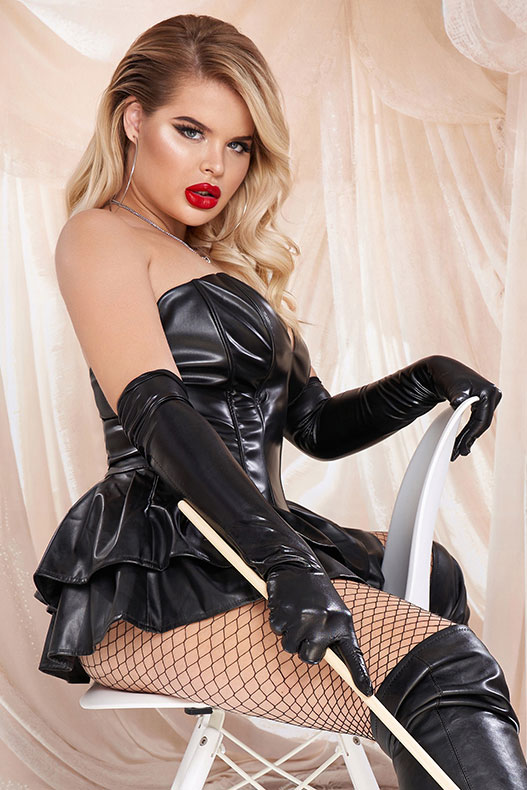 Dates VIP Lounge Elegance
02.10. - 05.10., 26.12. - 29.12.
Playful from heavenly tender to hellishly hot!
A young, very ambitious dominatrix who has turned her own passions into a profession.
With a lot of fun and enthusiasm for doing, this attractive young dominatrix delights connoisseurs who are all too keen to be inspired. The SM of Lady Lucia Lucifa arises from her thoughts and her own outlook - she seeks common ground with her passive counterpart, likes to experiment and is also open to special, unusual ideas.
The implementation of one's own longings into the exciting, bizarre togetherness takes place naturally and in a very natural way - as only a young, but well-established, knowing dominant woman can celebrate.
Erotic dominance, sensual but consistently implemented, an almost unexpectedly comprehensive range of lived SM to really kinky games - exciting, lustful and extravagant: All of this awaits and even more the expectant, inclined guest at Lady Lucia Lucifa.
Preferences of Lady Lucia Lucifa:
IMPORTANT NOTE: Due to the current corona crisis and current hygiene regulations, some of the services/preferences mentioned may not be offered. Please observe the applicable regulations.
Anal treatment / anal stretching
Ballbusting
Usage games
Bondage
Nipple treatment
CBT
enema
humiliation
DS dilators
FS bondage
Fetish games
Weights
Rubber training
latex
Urethral distension
Fisting
Flagellation
Foot - shoe - high heels - boot erotic
Cage games
Chastity
Tickling fol.
Brackets
Clinic games
enema
Long term education
Lacquer leather latex
Mask games
mummification
Nylon erotic
Org control
Whip training
Prostate stimulation
Shave - Punish shave
Stimulation current
Cane training - easy - medium - intensive
Role play in the black and white area
Sadist
Scissors technology
School education
Strap-on games
Trampling
Venus 2000
Verbal eroticism
enslavement
Diaper fetish
further preferences by arrangement
And much more!
Lady Lucia Lucifa's Taboos:
Dru., Stimulants, Intimate contact, overwhelming and candle wax