Melina Sharp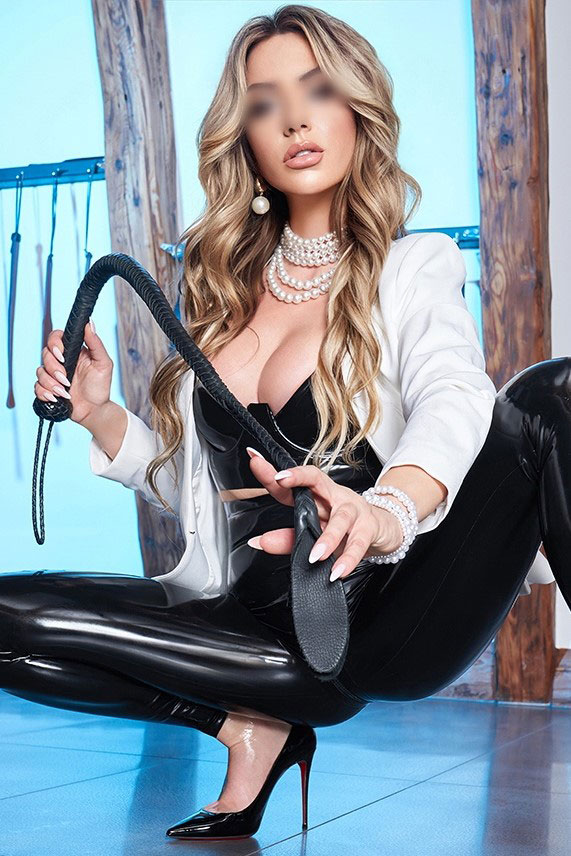 Dates VIP Lounge Elegance
Sensual dominance
It's nice that you've come here and now you should read every word carefully. So you have been looking for a mistress for a long time who will rule over you and show you your true place in the hierarchy.
Let yourself be deceived by my breathtaking sight.
The embodiment of sensual and classic femininity will take your breath away and possibly fascinate you. However, I give you some good advice, kneeling, subordinate slave - don't underestimate the merciless sadist in me.
As the queen of role-playing games, I will guide you through your darkest and most perverted fantasies and make them become reality.
Reality so intangible and confused, you immerse yourself in a world full of pleasure, pain and passion.
Through my divine sight, my warm voice and my brutal cold, I will completely drive out your disobedience.
I will bring your limits to light and gradually exceed each one of them. Playing with closeness and distance is my passion.
You will have to wait anxiously and long for mercy as I ask myself the most difficult question of all, which of your openings I will fill first.
My particular interest is in pulling your strings and training you to become my personal puppet. Even though you won't achieve even a fraction of my elegance, after my rigorous training you will strive for the perfection of being my most devoted serf. With tact and hardness, I will train you to become a distinctive lady.
You forget your outside world, your stress and give your entire existence into my hands. Suddenly you wake up from this perverted dream and the only thing left to you is the longing and desire for your mistress, her mercilessness and her sweet nectar. Now the time is finally here and you can come to your senses and understand that from now on, your existence will only matter.
Preferences of Melina Sharp:
IMPORTANT NOTE: Due to the current corona crisis and current hygiene regulations, some of the services/preferences mentioned may not be offered. Please observe the applicable regulations.
Anal games
Anal stretching
Beginner
Log out
Breath control
Delivery games
Bondage
Nipple play
Bastinado
Caning
CBT
Crushing
Dirty games
Dilators
D.S
Enema
Fetish games
Flagellation
Rubber education
Foot and shoe eroticism
FF
Figging
Whore training
Testicular torture
FS
Pee
Caviar
Enema
Mummification
Orgasm control
Pain management
Interrogations
Pegging
Role-playing games
Black area
White area
Leather
Latex
Paint
Pet play
Feminization
Trampling
Ballbusting
Spanking
Psycho play
Humiliation
Electrical stimulation
Weights
Face slapping
Verbal eroticism
Vomit
Forced removal
force feeding
Feminization
Demonstration
Imprisonment
Torture
Sadistic
Prostate massage
Urethral stretching
Other preferences on request
Taboos:
Intimkontakt bei der Herrin, Ringkämpfe
Further information
Intimate contact with the mistress, wrestling matches