Mistress Bella Lugosi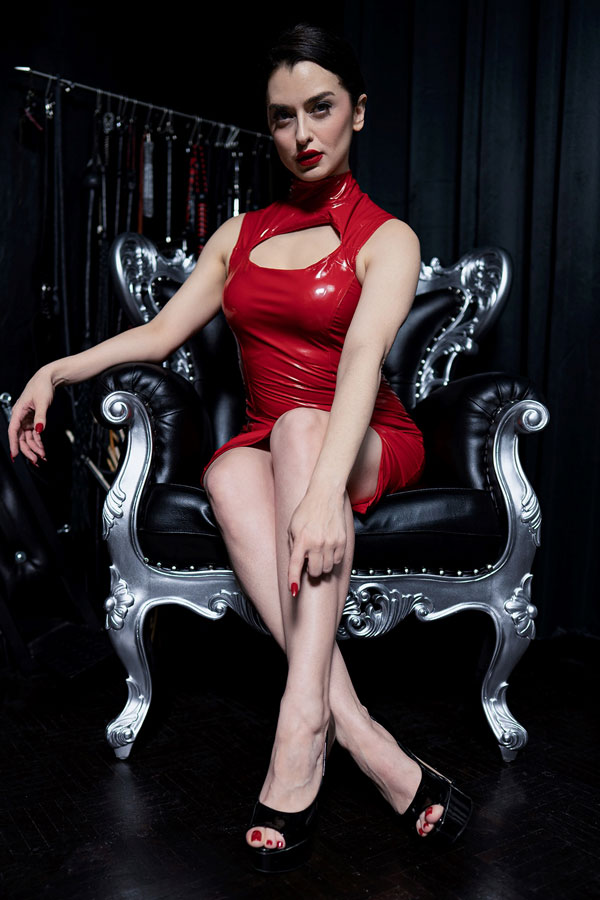 Surrender to me in confidence, and awaken...
I am Mistress Bella Lugosi - a Classic Dominatrix, very inspired by the "old-school" of Femdom. My personal fetishes include leather, rubber, high-heels, nylons and over-knee boots. For Me, the psychological aspect of domination is the most arousing and interesting part. It requires maturity, intellect, creativity…. finesse. And that "je ne sais quoi" is precisely what I possess.
I'm the smiling Sadist who openly enjoys Herself in sessions, rather than a cold, detached, severe type. I'm skilled in & enjoy a wide range of BDSM practices; from more simple scenes, to highly complex ones.
Are you a discerning fetishist, who daydreams of elaborate and bizarre scenarios, flawlessly executed by an expert hand? Or an absolute beginner, searching for a trusted Guide on your journey to kinky sexual discovery? Or maybe a masochist? A lover of extremes, searching for the merciless & masterly Architect for your personal Theater of Pain?
I can persuade you gently…. or break you ruthlessly!
The dark side of the imagination has always fascinated Me. As a girl, I was much more interested in the majestic Villainesses in My storybooks than the helpless Princesses. A young mind, brimming with dark fantasies. My beauty is utterly alluring; My features are sultry and feminine; My charms, ladylike and disarming. I smolder from within. After a bit of time in My presence, you start to realize that you've never met another Woman like Me before. You begin to melt under the sweet trance of My spell. Your resolve is slipping away as you enter this universe in which I am at the center. You can't help but open yourself to Me, raw and exposed, following Me deeper and deeper into the abyss. With awe and dread, you slowly begin to realize the depth of My sadistic desires. But by then, you are lost in My world, from which there is no turning back. And if you are brave enough, I will take special pleasure in tormenting you.... slowly, lovingly, brutally.
Regardless of your orientation or level of experience, always remember that proper protocol and manners are important to Me. I have high expectations of your behaviour: your complete submission, respect, adoration and compliance. For Me, being a Mistress is a way of life that I'm totally immersed in each and every day. Authenticity, mindfulness, artistry and professionalism are all central to My work. My Guests may session with Me in German or English.
Preferences of Mistress Bella Lugosi:
IMPORTANT NOTE: Due to the current corona crisis and current hygiene regulations, some of the services/preferences mentioned may not be offered. Please observe the applicable regulations.
Anal Play
Bastonade
Ball Busting
Bondage - Light to Heavy
Boot / High Heel Worship
Breathplay
Caning
CBT
Chastity
Electro-Stimulation
Facesitting (clothed)
Feminization including Make-up, Dress-up, High Heel Training, Slut Training
Flogging
Foot Worship
Fucking Machine
Leather Fetish
Medical Fetish
Nylon Fetish
Nipple Play
Orgasm Control
Roleplay (Nun, Boss, Teacher, Aunt, Nurse, Doctor, Slave Trainer, Sorceress, Wardress, High Priestess, Pimpstress etc)
Rubber / Latex Fetish
Sensory Play / Sensory Deprivation
Slapping
Slave Training
Spanking
Spitting
Strap-on
Tease & Denial
Tickle Torture
Urethral Sounds
Venus 2000
Whipping
Mistress Bella Lugosi's Taboos:
Intimate contact with the Mistress, Permanent Marks, Vomit, Wrestling, Golden Shower, Hardsports / KV