Scarlett Maria Bizarr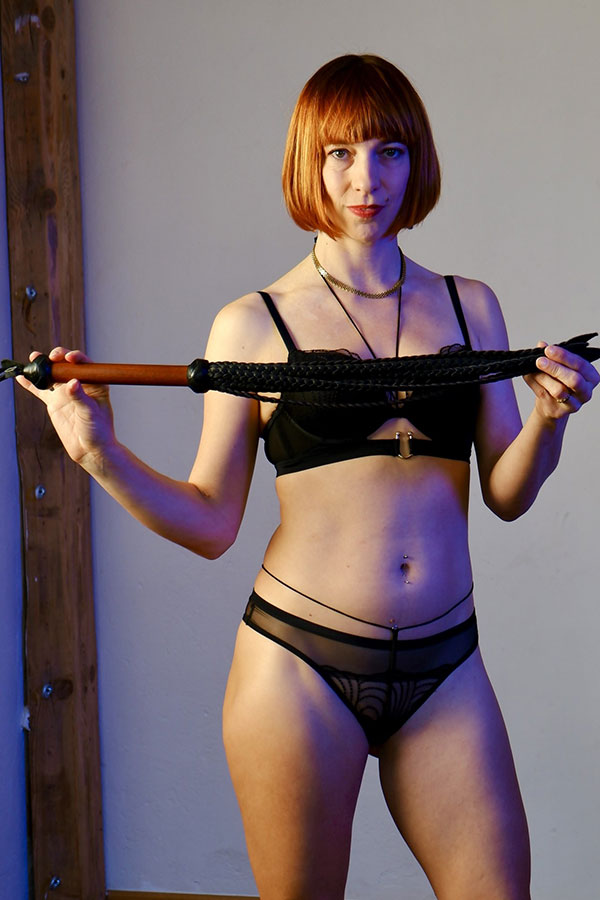 The art of seduction!
Bizarre Lady - switcher - double session - sub and bizarre
I'm a wish granter, natural switcher and play kid. I like to decide about my body and definitely about your lust. I prefer to play with the naked facts and explore you as my sex object, examining all your dark sides that nobody else gets to see. I love shaved eggs and I'm just horny.
I take what I want and when I want. Tease and denial till you drop, let's see how long you can. You come to me completely innocently and respectfully and I will slowly screw you up, hit you or piss you off, you can beg for that. Whips, shackles, dildos, vibrations and a strapon are always ready. Foot eroticism, shower games, role playing or golden showers are welcome.
There is intimacy and closeness if you earn it or if you make me a cuddly cat. According to instructions you can spoil me sensually or I will force you to do so. Let's see how creative you are. I am an erotic bizarre lady and need your best piece and your butt to play. Let yourself be seduced and touched so that you can just let yourself go. Dedication is of course rewarded. Maybe we can turn the tables?
For me, BDSM is playing together for a certain amount of time, being present and filling and experiencing a bizarre space with fantasies. There is a beginning and an end. Clear rules in advance and a thorough discussion on site gives trust and a lot of freedom. What matters is quality time just for you! It is really important to me that YOU are the focus, that you feel free and comfortable, no matter what topics and wishes you come to me with. I am emphatic, naturally crazy, creative, spontaneous, honest and authentic. In a session I try to tune into you and find our flow together. All to our complete satisfaction, of course.
After 4 years of bizarre goings-on in Berlin, I want to see what comes my way in Bavaria, my homeland.
I travel a lot, am constantly educating myself, I love luxury, champagne, good food, red wine and chocolate. I'm always happy about gifts. I'm currently learning to dance tango and let myself be inspired again and again. I'm very curious and excited.
I am happy to read about your wishes
All the best,
Scarlet Maria
Preferences of Scarlett Maria Bizarr:
IMPORTANT NOTE: Due to the current corona crisis and current hygiene regulations, some of the services/preferences mentioned may not be offered. Please observe the applicable regulations.
Erotic bizarre
Beginners very welcome
Kinky massage
Girlfriend experience
Soft BDSM active
anal treatment a
elongation a
exploration a
fisting a
footing a
blindfold a
Sensation Play a
bondage a
nipple treatment a
CBT a
Shower and bath games a
Faceciting a
foot eroticism a
Han tube stretch a
Goldenshower a
Spitting a
rimming a
spanking a
strap on
Tease and Denail a
Worshiping a
worship a
Soft BDSM passive
Erotic role playing p
Double session with colleague as sub p
Shower and bath games p
Whole body massage p
investigations p
spanking p
shackles, fixation p
intimate contact p
Scarlett Maria Bizarr's Taboos:
Passive: Anal, Nippleplay, Spitting, Vomiting, Marks and bruises, severe pain and blood, Diaper Fetish, wrestling