Annabel Schöngott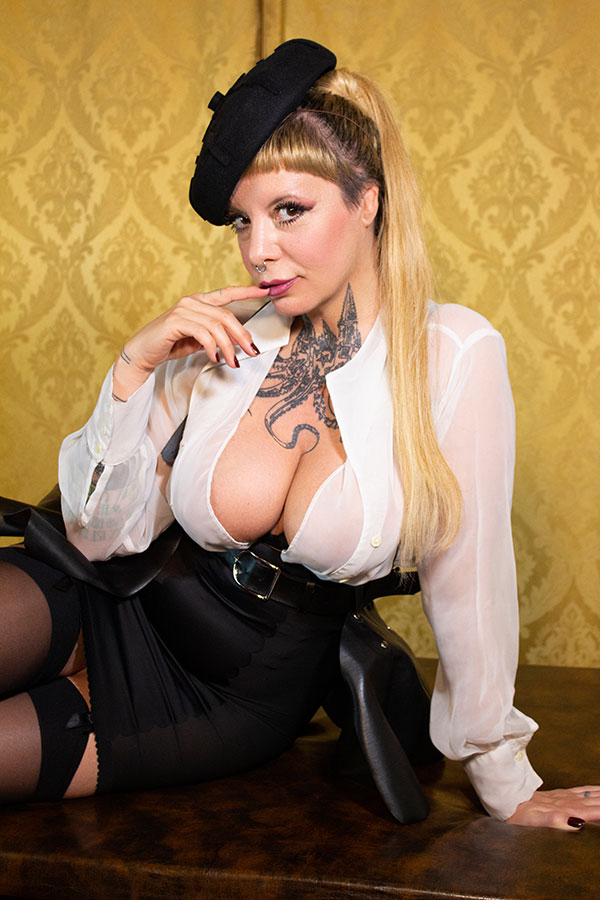 Dirty mind & body games
I am an emphatic gamer and sensitive pervert. My sadism is purely playful and moves within the radius of my and your lust. My lust is almost always a mirror of yours. Unless you are at my mercy with a head mask, shackles and spread arms and legs. That inevitably turns me on and I love how that feeling inevitably spreads through me. A great game.
My skin meets your....filthy fantasies to be thought, spoken and maybe done....
I am an absolute touch fetishist. i want to explore you Sometimes soft, sometimes hard, sometimes slippery, horny, a bit painful or messy.
My favorite lust triggers are:
you are at my mercy
i use you
It gets messy and/or dirty.

My favorite sessions are usage scenarios, licking, and roleplaying. I like to tease and love to feel skin. I turn many people's heads with my curves and I like to let passion run its course.
I welcome all people who like to let go and are brave enough to join me on the journey so that we can have fun. Because that's what we're here for. The experience of my guests doesn't matter to me. Just love of the game.
Preferences of Annabel Schöngott:
IMPORTANT NOTE: Due to the current corona crisis and current hygiene regulations, some of the services/preferences mentioned may not be offered. Please observe the applicable regulations.
Usage Scenarios
dirty talk
Licking and role playing
Creations of my bodily fluids
anal treatment
anal stretching
baby rearing
utility games
nipple treatment
CBT
humiliation
facesitting
feminisation
Fetish Clinic Games
doctor
foot eroticism
KV
NS
Dirty Games
masques
Pet games - dog - pony
stimulation current
Shoe and foot eroticism
student - teacher
spitting
strap on
dildo games
verbal eroticism
forced ejaculation
force-feeding
Annabel Schöngott's Taboos:
Alcohol, Permanent Injury, Drugs, Stimulants, Roman Shower