Fuck Machine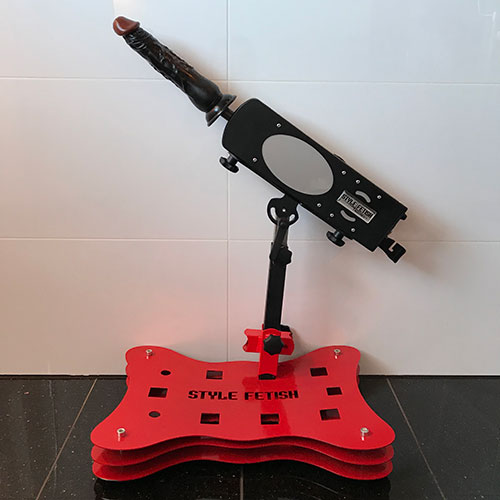 The Style Fetisch fu.-machine stands for uncompromising strength and endurance.
Lovers of the fu.-machine appreciate the smoothness as it guarantees pleasurable hours or a strict upbringing of a special kind.
The fu.-machine is the right choice for excessive and permanent penetration.
You are firmly lashed to the gyn chair, slave chair or restraint bed. Somewhere, but always exactly where your mistress would like to see you. You can no longer move - you are at the mercy and will now let everything go through you. You can already feel something hard on your body opening, on your rear entrance, which can and will give you so much pleasure. At the beginning gently, carefully, the attached dildo slowly pushes into you, the volume and circumference precisely tailored to your needs. The fu.-machine moves sonorous and evenly, back and forth, deeper and harder. Your excitement increases, more and more, drives your lust further, completely grabs you, makes you willing, receptive, even greedy. The electric phallus, which is powered by a powerful motor, commits you until you can no longer and beg for mercy. Your chosen dominance will surprise you. Redeem your first-class ticket in your personal universe of your dreams!
We naturally provide a large selection of different dildo attachments for our fu.-machine.
Many of our BDSM furniture in Studio Elegance (trestle, lounger, slave chair, gyn chair) are already prepared for the machine.
Rental price per day - commercial use 30.. Euro (for the ladies with the contract)
Rental price per day - private use 40, - Euro
Rental fees including cleaning fees
Our equipment is cleaned professionally at all times. The dildos are 100 percent disinfected and sealed.