LOB & TADEL - Electrostimulation device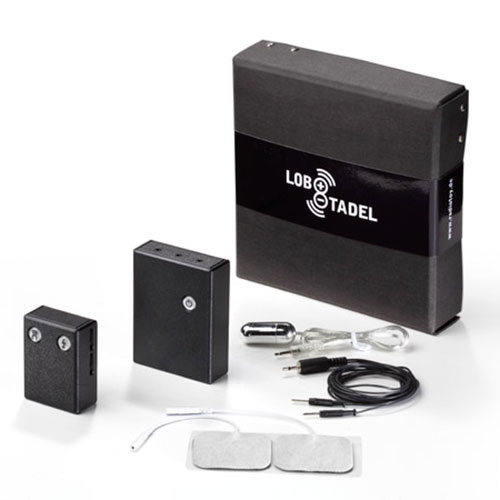 Total-Control One with L&T transmitter "Home" (large knobs for long fingernails) from Radiotoy.
With the LOB & TADEL transmitter, the slaves can clearly feel the long arm of their mistress, regardless of where she is at the moment.
As the name suggests, this electrosex device can be used by remote control to praise and / or reprimand the connected slave.
Your mistress can reward you with pleasant vibrations or punish you with painful electric shocks.
The praise comes from a small, powerful vibrating egg. The vibrating egg can be inserted vaginally or anally and then it stimulates the G-spot or prostate.
The rebuke is realized through stimulation current.
With the LOB & TADEL electro-sex device, your mistress has unrestricted control and educational power.
Equipment:
E-loops, penis loops 6mm (can be disinfected)
E-loops, penis loops 2 mm (can be disinfected)
Stimulation current adhesive pads blue - water and sweatproof (single use)
Bedienungsanleitung Total Control One - Radiotoy - Lob & Tadel (radiotoys.de)
Total Control One TTC-One Rev.2 -- Tutorial 1 - YouTube
Look & Feel - Total Control One V2 radiotoy.de - YouTube
Rental price - commercial use 20. Euro (for the ladies with the contract)
Rental price - private use 30, - Euro
Rental fees including cleaning fees
Our equipment is professionally cleaned and disinfected at all times.