Inflatable latex suit GA 5a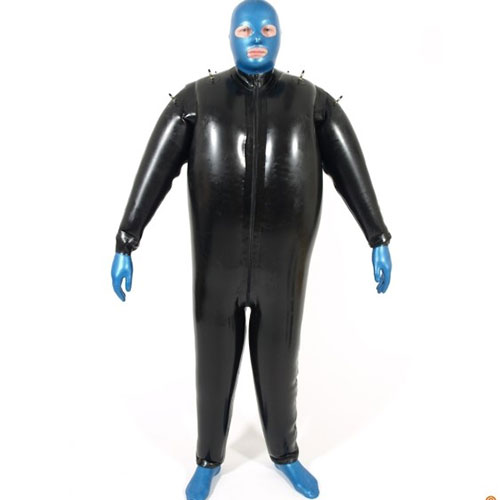 manufacturer Strudio Gum
Feel the latex on your skin! Experience the total tightness and isolation!
Have you always wanted to feel latex intensely on every part of your body? This dream is now coming true for you. With our inflatable rubber suit we offer you the ultimate latex experience. It is a great feeling when the air presses on your body. It is attractive already when pumping up and then when it is really close to the body. Eight inflatable chambers allow the pumped-in air to be distributed evenly, which is very important for the fun of carrying. Differences in pressure are easy to regulate, as the front and back as well as the arms each consist of two separately inflatable chambers.
This heavy rubber suit is made of double-walled latex with a thickness of 1.2 mm. The inflatable catsuit is equipped with a YKK zipper, which runs from the neck down over the stomach, through the crotch to just below the hips.
For a holistic experience, this suit can be combined with our masks, mittens or socks. Great wearing comfort and a uniquely bizarre experience guaranteed!
Rental price - commercial use 50,00 Euro (for the ladies with the contract)
Rental price - private use 65,00 Euro
Rental fees including cleaning fees
Our latex equipment is professionally cleaned, disinfected, powdered and polished at all times. Our high-quality latex equipment is state-of-the-art.
More Rubber Equipment
More BDSM equipment