Latex Bonding Bag (inflatable)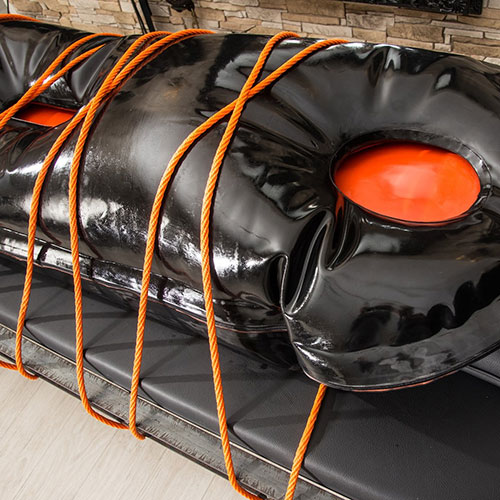 Studio Gum - The latex bondage bag for that special experience
Consisting of two separate air chambers, this bondage bag (BS3) made of high-quality, fine latex offers a great feeling on the skin. The side YKK zippers connect the two chambers. For you there is either a facial or a genital opening, but this latex sack prevents all movements. You are completely at the mercy of your mistress and she can enrich and delight in you.
Bondage bag BS3 (length: 200cm, width above: 70cm, width below: 50cm)
Our second model (inflatable) even offers you three separate air chambers, which distribute the pressure of the latex on your body even better and make the sack even more supple.
Bondage sack BS 4 (length: 200cm, width above: 75cm, width below: 75cm)
Rental price - commercial use 50,00 Euro (for the ladies with the contract)
Rental price - private use 65,00 Euro
Rental fees including cleaning fees
Our latex equipment is professionally cleaned, disinfected, powdered and polished at all times. Our high-quality latex equipment is state-of-the-art.
More Rubber Equipment
More BDSM equipment