Comtessa Loredana - An absolute top dominatrix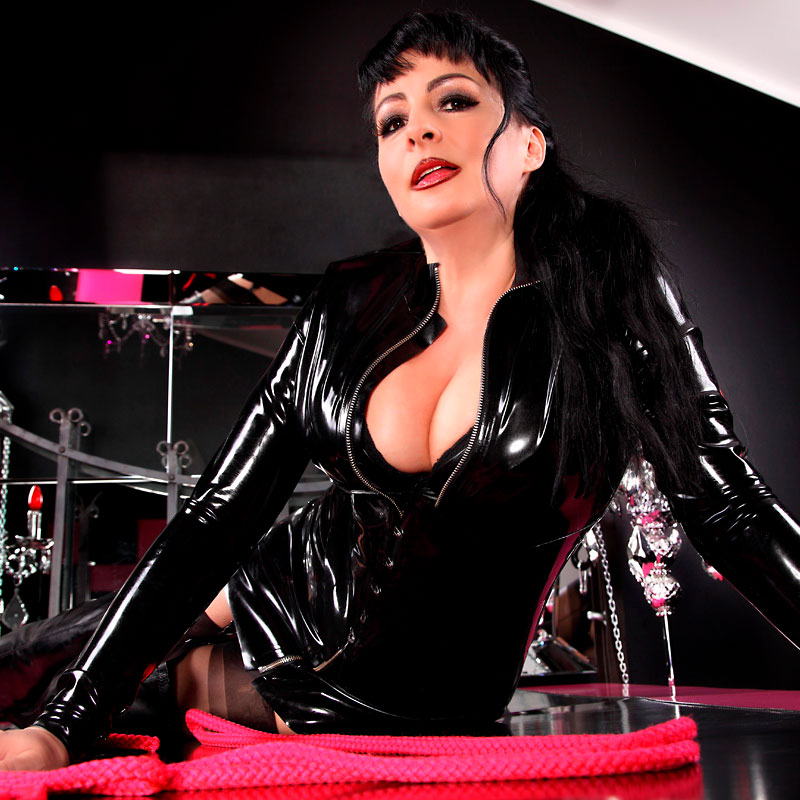 I've had the desire to go to a dominatrix for a long time. The network is full of women advertising and that makes it difficult to find the right one. Anyway, one day I came across Comtessa Loredana's homepage. Then I suddenly knew, yes, it is exactly this lady. The pictures and the description of Comtessa Loredana on your homepage and on the page of the Bizarrstudio Elegance immediately impressed me. So I took all my courage and called her. When I had her on the phone shortly afterwards, my heart was in my throat. I think Comtessa Loredana immediately noticed that I was very excited. I briefly told her how I came up with her and what my thoughts are. She somehow took away some of my excitement with her really, very pleasant voice and an incredibly nice manner. So I made an appointment with her. On the day of the appointment, I was absolutely nervous. I left home early to be on time. When the clock showed the agreed time, I rang the bell in the bizarre Elegance studio on Frankfurter Ring in Munich.
Shortly afterwards I heard a voice that I already knew from the phone, it was Comtessa Loredana's. She asked who was there and I said excitedly, this is Michael and I have an appointment with you. She answer briefly, hello Michael, come to the top.
When I got to the top, I made the first mistake. I stood in front of the door and rang the bell. Today I know that I have to wait until the door is opened. When the door opened, I was almost knocked when I saw Comtessa Loredana live for the first time. She looked even more breathtaking than on the pictures on her homepage. She said hello Michael and held out her hand to kiss me on the hand. When I entered, my nervousness was so great that I even hoped to get a few coherent sentences out. But through the absolutely warm-hearted and calming manner of Comtessa Loredana, I managed to do that quite well, I think. We were sitting at a fancy little bar and she asked me a few things about my preferences. Although I had sent her an inclination questionnaire, which she deposited on her homepage to fill out, she also said she has read this questionnaire, of course, but still wants to know personally from me what I am imagining. So I told her my wishes. I told her, among other things, that I'm curious about the subject of flagellation and that I have a smoking fetish and that it would be nice if she smokes a cigarette in front of me and blows the smoke in my face. Suddenly she looked at me so mysteriously.
Then she got up and said strictly "follow me". I followed her through a long corridor into an incredibly nicely furnished SM room. Arrived there, came back in a strict tone, take off your clothes. I did that and when I stood completely naked in front of her, I felt totally helpless. She then showed me the shower and said when you're done knock and wait. I did, and when she came for me, I was even more nervous than before.
Then I had an absolutely beautiful session for 2 hours. Everything that I had previously expressed in terms of fantasies and wishes, she implemented in a playful, yet consistent and somewhat strict way. I never had the feeling that somehow my wishes were being processed.
During the flagellation with various percussion instruments unknown to me she was really not squeamish, but always very empathetic and it was an indescribable feeling for me. When we then went to the large terrace of the studio and she smoked one, I was blown away. She not only blew the smoke into my face, but also said in a stern tone that I should open my mouth because I am her ashtray. If she had asked me beforehand, I would not have imagined.
When we sat down again at the small bar afterwards, she asked me directly how I felt about the session and what I particularly liked and what I didn't like. I told her that I liked absolutely everything and that I would like to visit you again. She smiled at me and said yes very much and you would be happy.
Since then I have been visiting Comtessa Loredana regularly and have had well over 50 so far! more wonderful sessions with her. When I look back, I notice today how everything between us has developed in an unspeakably beautiful way. I experienced and learned a lot about the subject of BDSM and especially about myself.
Flagellation and caning have been an integral part of every session for a long time. Meanwhile, things get down to business without a warm-up and there are at least three pretty tough rounds with the cane. Since traces don't bother me, I still look pretty battered days later. The smoke fetish has evolved in the meantime so that it includes my whole body and also my "best friend". It is phenomenal that after this long time and the many sessions with Comtessa Loredana, every session is always very special. Although we now have fixed rituals for different things, it is different every time. Comtessa Loredana also always comes up with something new and she takes me to my limits and beyond in many things. Over the long term, an absolute relationship of trust has developed between us.
Comtessa Loredana is an absolute top dominatrix that I can recommend to an absolute beginner like I was then and of course especially to every experienced SM lover. Everyone who is looking for a real dominatrix is ​​in the best of hands with Comtessa Loredana. Their knowledge and skills are unbeatable in the truest sense of the word.
Warm greetings
Michael
Author: Michael - posted on 07/14/2022
Learn more about Comtessa Loredana