Flag- and Bondage-Session with Mistress Xena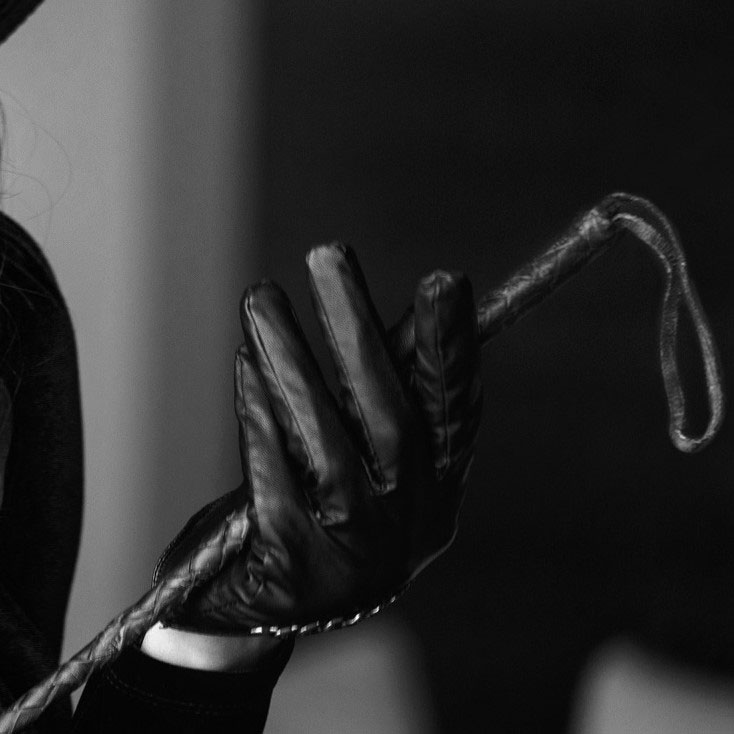 While looking for a consistent dominatrix for a one-hour spanking and bondage session, I recently came across the website of Mistress Xena in Munich, whose interests, according to her own statement, are preferably focused on the black area in BDSM. After I contacted you with the question of whether you would trust yourself to treat me hard on a first visit and to bring me to my limits despite a limited trace limit of only 1 week, I immediately received a positive response within just 2 hours.
A short time later we agreed a visit for the next day in the Elegance studio, for which I wished for strict restraint and painful treatment without a code word and an exit option and asked you to only lead me to my pain limit, limited by the trace limit, as far as this was possible the narrow limit is even possible. I also pointed out to you that I am not inclined to be submissive and that you should also please respect that.
She wrote to me that she was particularly interested in masochists and that she was looking forward to realizing my wish with me.
When I appeared the next day in the previously unknown studio, a very attractive and immediately sympathetic woman opened up to me. First of all, she showed me around the really nicely furnished studio and showed me all the rooms in detail. Then she had a very detailed preliminary talk with me, in which she went through my wishes, limits and taboos again.
This conversation then ended with the words that you would go through the treatment consistently and that I should be prepared for the fact that, according to my request, there would be no code word and no termination for me. A nice transition into the session to get my head cinematic going.
At the beginning of our game together, Mistress Xena began to tie me up with an extremely restrictive rope bondage and to tie me to a penalty box; a first surprise, as I had only expected a simple fixation with handcuffs and ankle cuffs. Before and during the lacing, she constantly stimulated me with her physical closeness, intense looks and bites into my nipples and earlobes.
Since these were already very painful, I quickly realized that I had to prepare for intensive treatment. The tight lacing made me feel completely defenseless and at the mercy of a short time, a feeling that was reinforced by a corresponding gag and a blindfold; just the way i love it.
Before Mistress Xena started to warm up, she whispered in my ear that she had been watering a nice cane for me for some time and that it would be used during the session. After a short time, she increased the intensity of the hits, also changing the percussion instruments regularly. For example, multi-tailed whips, single-tails, whips and, of course, various canes were used. In the process, she continuously increased the hardness and frequency of the blows, so that I soon had to start biting off the pain in the gag.
Despite your consistent handwriting, I also noticed that whenever I reached my limits for a short time, you gave me a brief moment to take a deep breath and realign myself. From these small signals I could see that she was acting very attentively and responsibly, which very quickly built up the corresponding trust in me, to let go and give myself completely.
In the further course of the session she also treated the soles of my feet with hard and consistent blows, using both whips and canes. With these beatings, where the trace limit is not really a problem, I finally realized what a sadistic potential this lady had.
The more I writhed on the ropes and moaned in pain, the better your mood got. When both my buttocks and the soles of my feet became extremely sensitive, she finally picked up a pinwheel and began to torture me. At this point at the latest, my control was over. I just screamed my emotions out loud and fidgeted - as far as the ropes allowed - wildly and uncontrollably. At the same time, my whole body began to shake, a first sign that I was approaching my limits.
Exactly at this point mistress Xena got the watered cane, took off the blindfold and demonstrated his flexibility and the hissing sound right in front of my eyes. "I'm far from finished with you," she whispered in my ear; I could see your eyes flashing with anticipation and you gave me a sweet, sexy smile.
At this point at the latest I knew that this lady was really enjoying the BDSM lifestyle and that her sadism was not being played. This was followed by more consistent, violent series of blows, now also at high speed on both my bottom and the soles of my feet, until I was really at the end of my strength, which she then recognized and ended the session at the right time.
Due to the hardness and the multitude of blows that had come down on me in the past hour, I was rather worried after untying about the condition my butt would be in and whether the marks would really fade again in a short time. A look in the mirror, however, showed me that this concern was unfounded, since Mistress Xena had strictly adhered to my hard limit.
My backside was colored beautifully red throughout, but practically without any serious bruises; super professional!
This was followed by a longer follow-up discussion, in which I could feel again how much she enjoyed this game and I had plenty of time to shower and come down. In the end, I left the studio after an hour and a half, with the actual playing time lasting at least a full hour.
Conclusion to Mistress Xena: A totally sympathetic woman with a great charisma but also a real sadist who enjoys playing. I have no doubt in the slightest that you would have chastised me even more severely if traces hadn't mattered; But even in this way, she managed to bring me close to my limits, professionally and with a lot of empathy, even on my first visit.
Author: Painboy - posted on 05/10/2022
Learn more about Mistress Xena