Madame Eva's film slut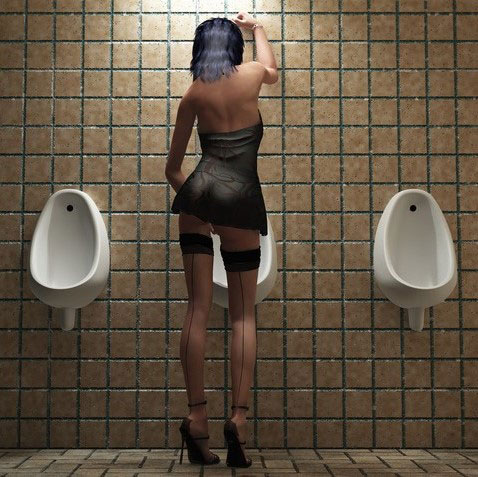 I'm Mika, Madame Eva Liliel Black's Painslut. Today Madame called me to the Elegance studio. The instructions are clear. Like last time, I'll wear the outfit at home that Madame loves so much about me. My toenails are painted black from the last time - my fingernails tremble with excitement and they look anything but professional. Madame will put on make-up for me. Already on the drive and at the rest area in Greding I will be recognizable as her slut. Followed by amused looks, I proudly and naturally enter the rest area and take a break.
When I arrive in front of the studio, I tear a hole in my black hold-up stocking as I get out - but I have a replacement with me just in case, so I switch to wine-red stocking in the car. "You will have your catwalk because you have to run all the way up to the third floor." - Madame Eva had already announced that to me.
So the madame's bitch starts walking - in red pumps, with wine-red hold-up stockings, a short skirt with nothing underneath, a black corset with a fishnet top, and a black leather bolero over it.
In my hands I hold two poems that I wrote for Madame on a black canvas and the small black envelope that Madame receives at every meeting. The door is already open when I get upstairs, I step in and get on my knees in front of my mistress and kiss her feet.
Like the O in the book, I am led to a room in which everything is already prepared for what will happen later. I lift my skirt and sit on an armchair with my blanket - Madame has prepared a glass of very special sparkling wine for me, which she invites me to drink - a glass of water quenches my thirst. Madame Eva leaves the room and makes me wait a while.
My eyes wander around the room - I see a make-up box and a wig. There are a lot of things on the bed that I already knew from the last time, shackles, ropes, clips, needles, dildos, striking tools and many other things. There are mirrors on the ceiling and on the wall. And I see a movie camera.
At some point I get a visit from a young dominatrix who tries to learn from Madame. She could be my daughter, but I get on my knees in front of her, which is a matter of course for a slave when he meets a lady. I can sit down again, she looks me over, admires my outfit and tells me that she can needle me later. Finally I'm alone again.
Madame enters the room, she opens the window and asks me to take a chair by the window. I realize that I am now being made up. She does this very conscientiously - pulls any remaining hair and bristles out of my face - puts make-up on me the way she likes her slut - the slut likes it too. As a finish I get artificial eyelashes glued on and a wig put on. I can look at myself in the mirror and fall in love with myself.

From now on the film camera is running - Madame finally called me in to make clips. Of course Madame has her strapon on - she enjoys it every time I try to suppress my gag reflex. I still have to work on myself here.
Madame spreads my arms and legs while standing in order to fix me standing on the four-poster bed frame. I enjoy being chastised by her. She uses a large wooden paddle and then finally her hands. I can't get enough of it.
The techno version of Bach's Toccata and Fugue sounds from the player. My mistress makes use of her right to please me from behind - I join in with the rhythm. I have a lot of fun and I get ecstatic.
My nipples are sore, because the madame had attached the clips to them a long time beforehand. As I lose weight, I get a scream. Afterwards she plays with it again and again. My piercings make it particularly attractive, because I feel the pain twice, once on the surface and then when the puncture channel presses on the piercing. It always makes me more willing.
I am given a short break and Madame ties my back to the bed. Madame leaves the room and comes back with her white doctor's gown - the young colleague from earlier is with us. Under the strict supervision and direction of Madame, she puts needles in my thighs and chest. I find it more meditative. Finally we're alone again.
To make the feelings more intense and direct, Madame Eva puts a mask on me while she frees me from the needles and relieves me of the pressure of pleasure. As every time we see each other, it was an impressive encounter with my mistress. I completely forgot that a camera was walking next to me. When madam plays with me we form a unit together - mistress and slave - whatever happens outside of it can happen. I am so grateful that we found each other.
I'm already looking forward to the next meeting and I'm curious about the pictures that Madame took of us. In addition to an extraordinary dominatrix, Madame Eva is also an excellent photographer and artist.
Author: Mika - posted on 11/26/2021