In the Chains of a Sling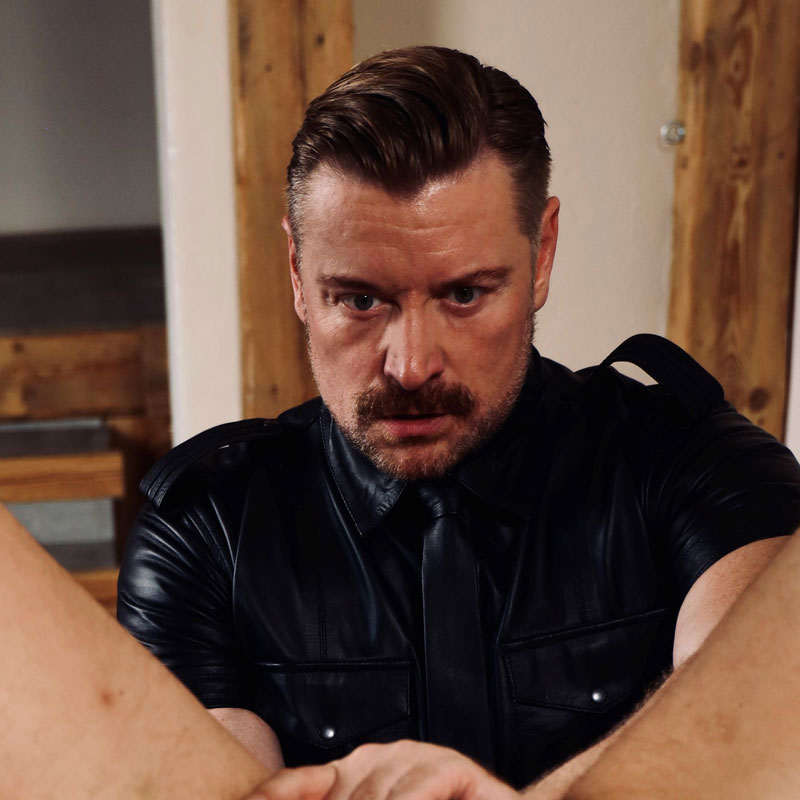 I definitely prefer individual sessions. There you can fully concentrate on the client and thus also ensure that they get what they need. With couple requests I am always a bit skeptical. Often I am supposed to teach the dominant part a stronger form of dominance or sadism, which rarely works well, because a person doesn't change just because they see it in someone else.
But: thought and play impulses can be given, which lead to success. Somehow I found the two exciting, Kai the verbose slave and Tom the quiet, almost shy master. As Kai explained to me in a barely restrained torrent of words long and wide, both wanted a session with me, where we both "serve" ourselves and Tom should still learn a lot from me.
Dominance games in the relationship
Kai is a wiry guy with an extremely brash manner. The mouth in his handsome face never seemed to stand still and more and more ideas and desires bubbled out of him. He was always talking about how they wanted this and that. But the powerfully built and a few heads taller Tom just sat there quietly, nodding approvingly to his slave every now and then. As tiring as I found Kai with his multitude of ideas, which would have been enough for a whole week, the more exciting I found the challenge of clearly drawing the balance of power here and knew exactly how I would shape the session.
Kai was classically the passive part in the SM relationship and Tom just the active one. Both came out that fucking had never really worked out well for Tom - mostly Tom just lets himself get blown off. I thought it was only logical, because there are few men who can really enjoy power bottoms, those bottoms that jump all over you and actually set the tone. Especially in a DS relationship, the active one should be allowed to indulge his hunting instinct, respectively get the feeling that he now has a "victim" in front of him, what he can use, and not that he himself is being used - as a stud, so to speak.
Kai was quickly stark naked without notice. Tom had on leather pants and black jump boots, combined with a sexy harness, and seemed somewhat absent minded. When Kai immediately went into slave mode, threw himself at my feet and just licked away, I stopped him brutally. In my full leather gear, I bent down to him: "Hey, tell me, are you setting the tone here now, you snoot? Now that's enough of your dictates, because from now on you're going to follow my lead." I admit that I was also a bit unsure at this moment, because such a 100% counter-steering can lead to an immediate abortion, however, I would have had no desire anyway that we are both used by Kai downright "as a master" and would have then also broken off prematurely. Confused, he looked at me and before he could say anything, it was my turn again, "Did you ask my permission to lick my boots, Kai?" After his hesitant "No, sir," I got down to business, "So, you get in the sling here, shut up, and then I'll take a look at your pussy." I put him in the leather sling, tied him up little artfully, but practically, and put a thick gag in his mouth. He was now off the air.
Raising the slave properly
I went over to Tom and we started talking about how best to shape such a slave, while Kai remained quietly in the sling, realizing that he had now really relinquished control for the first time. Tom kept taking a few of my toys in his hand and discussing with me how they worked on Kai. You have to imagine that you're usually the strong one and now you're lying there with your legs wide open in a sling like that and two guys are calmly discussing what they're going to do with you. The balance of power was now established. I build myself up again in front of Kai, without paying much attention to him, and put my finger in his ass. I completely disregard the little guy's groans and comment on how I find his hole, in the direction of his Master: "Tom, that hole is way too tight - let's make it nice and pliable now." I start and try different toys for stretching and make Kai again and again the mission clear that his cunt must now meet OUR demands. Sure I know that with this humiliation and the stretches of his cunt I also excite him, but I don't say that now.
Stretching exercises in the sling
A smile appeared on Tom's face, he calmly took out his big one and started jerking off. He had understood. The sling (or love swing as it's also called) exudes such glorious testosterone: Black leather and massive chains. And in terms of function, hardly anything is better for getting someone into the absolutely passive position. Arms and legs stretched upwards and fixed to the heavy chains, Kai's little pink rosette lay open in front of me, his cock twitching half-aroused. After a while, I invited Tom to "examine the cunt" as well: "Feels much more inviting already, the pussy, when it's well oiled and stretched, doesn't it?" We took turns sticking our fingers in Kai's ass to verify this statement, as if it were a commodity. "Stand in front of his hole, Tom." I showed him how to fix even an already occupied sling by adjusting the chains so that Kai's ass was at direct fuck height from his cock. "See, now you don't even have to bother getting your pecker in there, because you can just pull the hole onto your dick now. That's a subtle difference."
Strokes for the slave
I reached to my console and took the small crop in hand. With light strokes on the hole and on the dick, life came to the fixed slave. The moaning became louder and Kai tried to squirm so that he could escape the blows. Nevertheless, his thing was now almost in full glory. "Well, so he can enjoy outside his comfort zone." I handed the crop to the equally excited Tom and he happily accepted it while simply positioning his huge cock in front of the hole without sticking it in. His strokes were unsteady and gentle at first, but quickly became firmer. Moans and sighs filled the room, then he stopped, got down on his knees, worked the widely stretched hole with his tongue and jerked his thing hard as a stick. I now put a mask on Kai, so that he could no longer comment on the situation with glances or even influence it.
"Now you can just push it in, Tom. The bitch is now completely there for you. We can also leave the slut there for a bit - never mind. The 'bit' is there for us now." Tom, who had understood his new position of power even before this declaration, let his cock slide into the well-wetted hole with a powerful thrust. A suppressed yelp escaped Kai. Tom pulled out again and played around with his glans in front of the hole. After some time, he gave in to the little guy's horny whimpering and pushed it in again - but then remained motionless. Damn, again what the little one in the sling had neither expected nor could influence this in any way. These games continued and I saw that Tom was now visibly enjoying the power role. The seemingly awakened Master Tom held on to the chains of the sling alternately left and right and then just pounded in. The lying surface always swung back briefly, only to immediately swing back again sonorous chain-rattling. It's really cool when all the difficulties that can wait for you during the usual penetration in bed are taken by such a device: No pushing a pillow under your butt, which then slips away after a few thrusts after all, no "taking it from behind" and finding yourself on your toes at some point because the passive one is "going along for the ride", and no "getting out of breath" because you're almost sporting ramming. No, you just push your butt hole back and forth in front of your cock comfortably at the speed you like.
I practice verbal eroticism again while jerking off comfortably to the situation, firing it up like this: "Kai, keep your hole open. I don't want to hear a peep from you. You're just a hole now ..." And to Tom I say, "Tom, as long as you want, all just for your cock. Just for you, he lies there and dutifully stalls until you're done ..." Actually, I had assumed that we would restart a few more times, but Tom is like a well-oiled machine and works the hole mercilessly. I think it also excites him that I'm watching and he now has full control and can use his big cock well, because shortly thereafter he squirts nice show outside. Good for me, so I could also equal still nice with in the "lake shoot". That was our first meeting a few years ago. Since then the two were still a few times there. The sling still has a great attraction for both of them and is used in every game.
Author: Dominus.Berlin - posted on 11/19/2021