Role playing - Punishment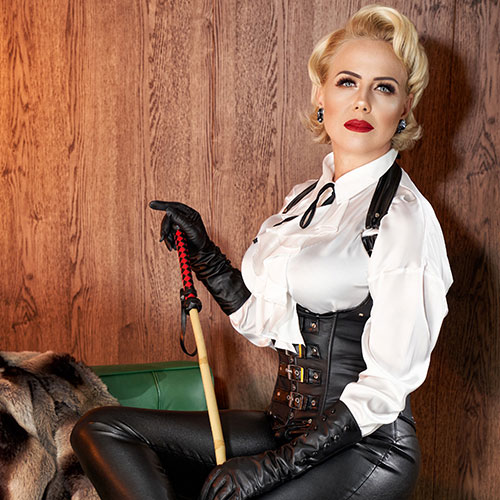 About two years ago I became aware of Mistress Xena's profile. For me, she is an absolute dream woman and the text on her website also appealed to me. Unfortunately, I'm only in Munich every now and then, so it took a long time before an appointment was possible.
I love role-playing games and suggested this idea to Xena: I'm her brother-in-law who has had a crush on her for a long time. So far I've always turned down, but now she gave me hope and invited me. In truth, my wife had asked her to punish me harshly for my horniness and attempted infidelity. Xena immediately jumped into this game. "You will bring me a letter from your wife." That way we could skip a preliminary talk and start the game right at the door.
Xena met me in a low cut short dress with heels and looked stunning. She played her part perfectly, the hot seductress who was keen on me. We talked a bit, while she heated me up more and more with her looks and words. "Go to the bathroom and freshen up. Then we'll have a lot of fun." When I finished and knocked, she blindfolded me and cuffed my wrists. I had to follow her blindly. She fixed my hands to a spreader bar on a pulley. "You probably didn't really believe that you could f... a woman like me. And then with such a mini cock... Your wife won't let you have it either, preferring to have fun with horny toy boys with big cocks... But she asked me to punish you severely for your infidelity. How long have you been married?" "12 years" "10 times is 120 strokes". I had to endure this, with the intensity constantly increasing.
In between, she "lovingly" took care of my nipples and made me hotter and hotter with her words. "Your wife wrote to me that you wanted her in the A...f... I'll be happy to fulfill your wish, but vice versa." Smiling, Xena strapped on the strap-on dildo. Our game wasn't over yet
Author: Frank - posted on 07/07/2023
Learn more about Mistress Xena