The werewolf on tour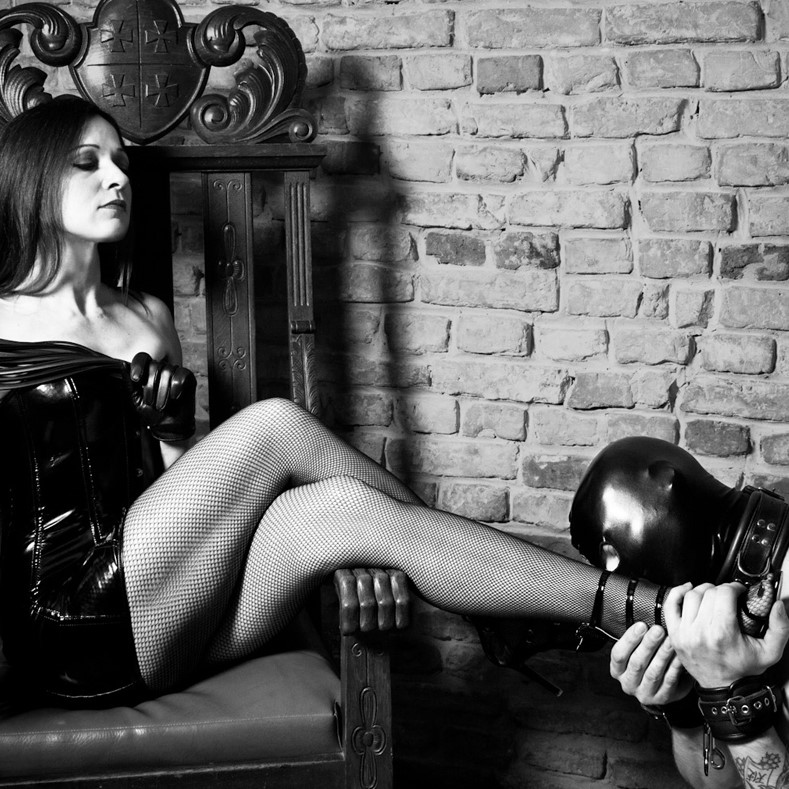 I love crazy things - the crazier the better. My goddess and boss (Lady Johanna) is often a guest at the Elegance in Munich. So I took the opportunity to visit her there too, to lie at her feet and to serve her at any time, just as she would like.
Said and done. As always, I was really excited because I knew that as a house-elf and property, I would be challenged by her to keep her happy and satisfied. Not an easy task at all.
Anyone who knows Lady Johanna knows that she is a very demanding and demanding person. Meeting your demands is a task in itself.
She knew very well how I love to serve her and that I would do my best to make her life easier and as comfortable as possible.
One day before she arrived, I was already there, took a hotel room right at the studio so that I could be at her disposal at any time. After all, she shouldn't want anything. I looked at the situation on site and waited for my goddess to answer.
The next morning I was supposed to pick her up from the train station because she had a lot of luggage with her. It's good that I cleared my car beforehand. She freshened up in the hotel and then off to the studio.
She was gold in the apartment this time. Really impressive ... So far I only knew it from pictures. Seeing it in real life was amazing ... very stylish ambience.
Finally I helped her unpack, then went shopping and got her whatever she wanted.
I love being able to do these little services - even if they can keep you on your toes.
For our meeting in the evening I had thought of something especially for her.
She loves Bavarian food. So I went and got her favorite food in her favorite restaurant. That alone was a little adventure - not so easy as a wheelchair user in Munich.
The minutes before our battle just wouldn't pass. The time until I would finally be allowed to lie at the feet of my goddess seemed infinitely long ...
I parked in front of the studio and waited to finally ring the doorbell. This time she wanted to keep me under her control all night.
I rang the bell punctually at 10:00 p.m. and had all my household items with me. Again I crawled up the stairs and was greeted with nagging about where I was staying.
Once at the top, I first served her her food. It shone all over my face. It's good to see her so happy. For me it was the first time that I ate Bavarian.
My boss is unpredictable - as always, I didn't know when it would start. Still beaming happily in one moment, her facial expression can change in a matter of seconds. One wrong word and the mood changes. I'm always amazed how she can switch from one second to the next.
After the strengthening, she expected me to greet her as she imagined.
However, I wasn't ready to do her a favor and resisted. So I gave her all 5. It got too colorful for her. Without further ado she stood with her feet on my hands so that I couldn't escape her. Then she pulled my head up with one hand roughly by the hair, looked me in the eyes with a demonic grin, before suddenly slapping my ears. But that was not all: she took off her pumps and finally worked on my bottom with them. She has become a real fury. Honestly, her look and her facial features at this moment are a dream to kneel down.
Then she got up, got her beloved bullwhip plus her cane, and pushed me to the ground. This was followed by blows on my backside and it was clear to me once again that she is the boss.
After the fronts were cleared, she instructed me to undress. Naked she wished to see me.
I followed her request immediately. Satisfied, she came up to me, circled and examined me. Then, how could it be otherwise, she meticulously checked whether the KG was sitting correctly. After she was sure of it, she unlocked it. Today she wanted to torment me for her pleasure with my unsatisfied lust. Her eyes were already twinkling. In some moments I would like to know beforehand what atrocities are going through her head.
I would know.
Well, this time the slave chair had done it to her. Unable to move, completely defenseless and robbed of almost all of my senses, I sat facing her absolutely at the mercy. This fixation alone made my lust soar. I wanted to suffer for her, to give her all my devotion, to endure everything for her in order to make her happy.
She felt this exactly and cranked my pleasure even further by devoting herself to my nipples.
Since I was "blind", I still can't say what she did to them, except that she went from gentle to hard and really let off steam and lived out her sadism. How did I enjoy giving her my devotion and enduring the nipple torture for her. It makes me crazy to feel their joy when I suffer for them. She stifled my screams with an inflatable latex gag. With each moaning, she pumped him up once more. With that she had me complete - I was caught up in her game, she had taken me over without exception. I was ready to endure anything for her.
At the same time she parked a vibrating egg on my little friend, with which she kept me caught in my unsatisfied lust. This parallel experience of pleasure and pain madness. I just wanted redemption. But she didn't care. In her element, she seemed even more motivated to let me suffer for her. I love her for her mercilessness.
She felt this very clearly. So she started to work on me with electricity. For me, electricity is not a complete pleasure, rather it is still associated with fear. But this kicks me a lot because you never know when the electric shock will come. She understands the game with pleasure, pain and fear 100 percent.
I was so damn close to heaven.
Pushed so high, she just stopped every now and then.
Then she wrapped me in foil, took a little break and just let me stew in my own juice. At some point, I only heard the heels of her boots coming towards me, she was suddenly very close again and switched on the vibrator between my legs without a word and sat down on my face.
Immediately I was back to 180.
She played this game of excitement and denial for what felt like an eternity and she had her real joy in it. But there was still no redemption.
At some point she loosed me and I was allowed to massage her divine feet and calves as a thank you. I love to see how much she enjoys being adored and pampered by me.
After this little respite, my little friend should feel the concentrated load of her sadism. I was quickly tied to the bed with my hands. The electropads were glued to the bottom and they turned the current up step by step. What a crazy feeling. Then my little friend was fired up with the Magic Wand on top of that. This constant arousal and denial - I had the feeling that my brain would be completely rewired. She is a true master of tease and denial. If one lives chastely for this goddess, every touch she touches is torture and liberation at the same time. Every pain, every gentler affection that she gives me makes me totally happy every time. A feeling of madness.
I kept screaming my agony at her. She had had enough of my whining and told me not to give a peep from me anymore. In order to better comply with this instruction, it put caning on my friend. With every peep from me, the number of lashes increased. What a bittersweet torment - my curiosity kept increasing.
She catapulted me into the sky one more time.
I was so infinitely grateful to her for this experience.
Since I know how much she loves the bastinado, I asked her, out of total gratitude and devotion, to be allowed to suffer again for her and to be able to endure 10 blows on the sole of each foot for her. It's hell for me, but I wanted so much to make her happier.
I sighed her, it went as if by itself - my restlessness was broken ... The glow in her eyes - hammer ... an image that is forever burned into my head. Is there anything more beautiful?
Then she left me completely used for a while. Did that well - I could land in peace.
Those are the moments when I am once again very aware of how lucky I am to be able to serve such a woman and to be able to make my body available to her as a playground.
At some point she freed me and we cleaned up together.
After we were done with it and I had showered again, I moved into my night camp.
Under the bedchamber of my goddess, in a kind of wooden dungeon, I was allowed to bed myself to sleep. I felt incredibly comfortable sleeping as a curled up wolf under the rule of my goddess.
The next morning we had to get up early. I prepared her breakfast and her beloved coffee. While she was enjoying it, I massaged her feet before saying goodbye to her for her attention and kissing her feet.
Then I went to see Munich. In the afternoon my goddess called me to go to the studio immediately. I rushed to her. We went shopping. It was my job to carry her shopping bags.
She clearly enjoyed it.
I was allowed to show up again late in the evening to help her pack, shine and clean her shoes ...
And then it was time to say goodbye. It was not easy to do everything for her satisfaction, to take care of her well-being, to separate again after the 2 intensive days in which I was able to serve her as house elf and property and to be available to her at any time.
She brings the best out of me, encourages me to believe in myself, to allow myself to be who I am. She makes me feel free like never before in my life.
I am reborn through her and just happy to serve this special woman.
Thank you my goddess for seeing so much potential in me and for enabling me to grow through you and to be your happy and proud property and little wolf.
Author: Werwolf - posted on 06/10/2022
Learn more about Lady Johanna