My first meeting with Madame Eva Liliel Black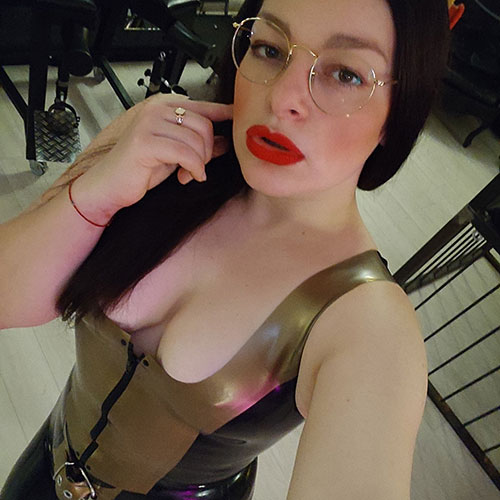 I haven't been to a dominatrix in ages and had bad experiences in the past. But the desire has never let go of me. So I started researching and ended up on Madame Eva's profile. She caught my eye immediately and we slowly began to contact us on social media. I was not only fascinated by the visuals, but also by her way of writing. Consistent, but very warm-hearted. Finally we made an appointment at Studio Elegance. I should be available to her as a servant throughout the day.
Madame Eva asked me to pick her up from the train station. Excited, I got there too early and waited. Then she appeared and I was blown away. She held out her hand to me in greeting and I was only too happy to kiss her hand. Before we went to the studio, we went to Demask Munich. There she selects black latex pants with a black and gold top. Already then it was running hot and cold down my back. We then drove to the studio because she had appointments. I was parked in the room reserved for them and given a slave collar. To make my status very clear to me. During the break I was allowed to massage her beautiful feet, run errands for her and it was slowly getting evening.
Our session was announced. Madame Eva wore the latex outfit that she had acquired. I couldn't take my eyes off her. She just looked gorgeous in it. For a latex fetishist like me, heaven on earth began. A sharp command "take off your clothes" tore me from my dreams. I immediately complied with the request and then I went to take a shower. My mistress picked me up again and went to the playroom, which left nothing to be desired. Everything you need to play was there. From the lounger / stretching bench to an ankle frame, penalty box to the slave chair. To name just a few of the items.
Madame Eva ordered me to go into the basic position in front of the door. She prepared one or the other and I patiently waited with increasing excitement for my mistress. Then she came and sat in her seat. Despite being ordered to keep my head down, I caught a glimpse of her. The sight was so beautiful and she let me go. I got handcuffs and ankle cuffs and got back on my knees in front of her. At her behest, I began to greet her. I kissed her shoes and waited to see what's next. I was blindfolded, should spread my legs and my mistress began to tease my best friend with her shoe. What a feeling. She alternately hit him and my inner thighs with a whip. Not too gentle and not too strong either. I still wear the tracks with pride. My mistress asked me who owns all of this that she is playing with. You alone, of course, I replied. As a reward, I got my blindfold removed. In a soft voice - I love her voice - she asked me to first kiss her shapely legs and then start a massage on her foot. She likes it with pressure and I should pamper her toes with my mouth at the same time. I was just in another world with excitement. When I was allowed to oil her legs and buttocks, it was completely over to me.
Madame Eva ordered me to get up and led me to the ankle frame. A combination of a St. Andrew's cross and frame. Very cleverly designed. My hands were fixed very high and my legs and body were firmly fixed with ropes. I love strict bondage and she is a master at it. I was blindfolded again. My mistress started playing with my nipples. Sometimes tender, sometimes harder. Suddenly I heard something ring. With the question, which I denied whether I was musical, she began to put clamps on my nipples. On it were the bells I heard before. She would help me to discover my musicality, she whispered to me as soft as a velvet. She tightened the brackets and a sweet pain ran through me. After playing with the bells for some time, she turned to my chambers. An ordeal followed with her fingernails, spike wheel, and more. Since my hands gradually became numb, I went to the next station.
My mistress led me to the slave chair. I sat down and was firmly fixed by her. I couldn't move anymore. She instructed me to lower my head and I was put on a locked latex mask. Little by little she began to inflate them. That was something completely new for me and what can I say, it was terrific. I had told her beforehand that I had problems dropping myself. A sensory deprivation at its finest, also through occasional breath control. Time and space no longer mattered. I was all at myself. Again she played with my nipples until I suddenly felt a sharp pain. I thought they were needles. Then it occurred to me that I had brought clamps made up of small claws that bit deeply into my nipples. I enjoyed it despite the intensity. Madame Eva started to stimulate me with a vibrator and a wonderful orgasm control began. Your diabolical laughter can still be heard in my ears. Divine! I don't need to mention anything else. Just enough that it took me some time to get back to earth.
Conclusion: I found my unique mistress in Madame Eva. I am happy and can hardly wait to be able to serve this beautiful, consistent, experienced and yet so sensitive Madame again. Thanks also to Mistress Monika with her Studio Elegance, which has such beautiful rooms and play facilities.
Sincerely and with submissive greetings
Raul
Author: Raul - posted on 11/30/2021