A timeless fascination: desire for leather!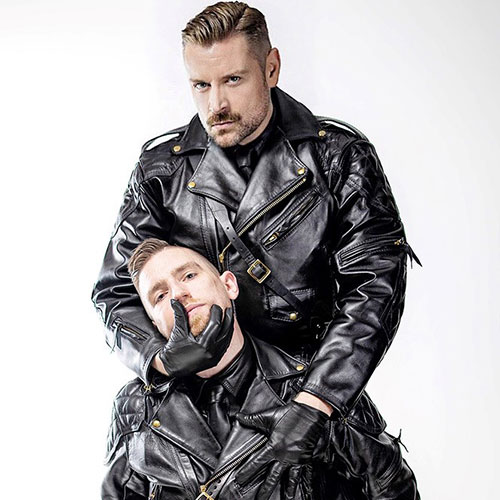 It is now well over a year ago that I was able to go to a gay leather bar and there, in the middle of air thickened by cigar smoke and with harder beats, was allowed to look at horny leather outfits in all forms and price ranges. Just the sight of men wrapped in this material already forces men reflexively to their knees for extensive boot licking, stretching their asses upwards ready for mating. In a leather bar, therefore, the roles are as obvious as those of factory workers in a plant.
Before the emergence of the so-called "New Guard Leather Movement" in the 90s, this view was always correct, because until then there were very simple understandings of roles, which were also reflected in leather clothing. Now we are in recent years anyway sexually in much more complex and more tolerant spheres on the road. While I, at almost 45 years of age, still come from a time when every gay party still had a separate darkroom with a "Men-Only-Sign" emblazoned over it, and some of the cis-men were controlled by security, we all fucked in Berghain with the straight guys on the second floor until Corona, and in KitKat it is hardly possible to visually separate genders and sexual orientations - but who wants that? After all, it's not a gender assigned at birth, sometimes even arbitrarily, or even an ideology that's been brought up and thought out that should qualify us for physical encounters, but the person, his body or his (fetish) passion itself.
Welcome to the future!
The material leather has not gained its high status like other "fashionable dominant garments" - only to lose it again with changing zeitgeist, such as the top hat. No, leather has rightfully earned its dominant reputation even well over a century by its own nature. It is a firm material, it does not give way like other fabrics, therefore it appears cool and distant and enlarges the body. Leather thus feigns muscles, at the same time concealing a little tummy and, thanks to its subtle sheen, suits gray temples perfectly. The fascination of this material binds people together to such an extent that associations have been founded for this purpose that still exist today and it can be viewed in the most varied forms in the Leather Museum (USA).
When talking about traditional gay stereotypes, the leather guy comes right after the transvestite in the list, for which leather is the basis. Artists like Tom of Finland were instrumental in this. Once covered with it, even the biggest sissy becomes a real guy: masculine, active as well as aggressive. Even if it sometimes looks a bit overdrawn, especially on a somewhat "softer contemporary", it still never fails to make an impact. It is not for nothing that showtunte Patsy l'Amour laLove has therefore aptly titled the gay leather outfit as "travesty of masculinity". You might think from my praises here that I'm also a steep fetishist, but I'm more of a "fan of the effect." While I have in everyday outfits the effect of the strict "daddy", leather transforms me just to the Dominus and thus manifests my sexuality in optical terms best.
Now, I'm not really a fetishist - and thus not a true connoisseur - so it's good that I get the personal advice right when I try them on. However, I opted for premium leather, which makes it not so easy to get local advice, because my brand is imported from the US. So, since I like to buy toys in Munich from my buddy Michael anyway, I decide to make a trip to him. His store is in the gay scene district at Sendlinger Tor and offers - after entering - a world of exciting possibilities. I roll my suitcase into the store, because I want to take before-and-after photos, respectively, to check if I can combine the new leather with the old outfits. I'm even a little nervous because the purchase is the same price as a small car. Hopefully the outfit will fit.
Pure masculinity - the leather jacket
"Your leather is over here," Michael says, positioning himself next to the rack in front of the leather jackets that look particularly powerful even from a distance. I throw on the jacket he hands me and find it instantly awesome. "Whoa, that's a tank," I exclaim. Michael just smiles, and his beautiful blue-white eyes sparkle at me. "Well, he already knows what he has hanging here in the store," I think to myself. The leather smells nice and natural - so it's untreated, but it's also a little stiff, and I find it hard to move around in the jacket. Michael reflexively says, however, that this stiffness will go away after a while and will adapt to the shape of my body and my movements. I wear leather for a long time and knew the effect already, but still I'm glad for this info, because I was already slightly unsettled again.
I couldn't buy the pants because I would have had to have the zipper, which conveniently goes through the middle of my current pants, sewn into the new pants, and in addition have them reduced in size at the calves so that the pant legs would fit into my boots. This was then not worth the four figure amount to me. The color difference to the new leather is - as expected - there, but here Michael gives me leather oil to spice up the color of the pants again something, and indeed the oil gives the leather back more of the original color and thus matches the jacket. I recommend this care to any leather fan. I buy another belt with a gold buckle to match the buttons and zippers on the new jacket, and my new leather uniform is in place - almost. The new leather is a lot heavier and also rattles nicer.
Do you want to draw your sword, too?
I rummage a bit more on the shelf and discover a long leather belt. "This is the Sam Browne belt," Michael says, "it's kind of an accessory ..." And he puts it on me. A narrower belt now extends from the wide waist belt, diagonally across the right shoulder. "It was invented by the British officer Sam Browne in the 19th century to make it easier for the soldier to draw his sword." I now admire this small change in my outfit that has such a big impact. It also gives the ensemble something "sexy-military" now. I love it! The transformation is now complete. If my previous outfit still gave me the feeling of being a "scattered German 80s punk rocker", I have now mutated into a perfectly formed "US motorcycle junkie". The guy who probably eats his beer bottle after drinking, fucks really hot chicks on his bike, throws them away afterwards with a cool macho slogan and is totally horny for brawls of any kind. In short: You become "hypermasculine".
I can already see the lustful looks of my slaves in front of me, because the horny material is neatly reinforced in its effect by my height and broad shoulders. I love to have the fetishist in front of me, who wants to "fumble" immediately, but must first earn it. For example, he must first get down on his knees and look up appreciatively. I let myself there in all peace and serenity, in the truest sense of the word, extensively "blickficken". After my minion has shown some patience and perseverance, he may "smell times" and then possibly times a little kiss on my chest. Or he is condemned to a proper boot polish with the tongue before it continues.
It's even more cool if you don't "condemn" him to it, but tell the sub that he's now "allowed" to lick the boots. I am into pronounced - dominance / submission games, because just the pronounced fetishist you may not immediately give everything. Less is always more here. Leather is the oldest textile that is generally associated with sexual clothing. Already in the century before last, people used this material to support the sexy wasp waist. Leather will never lose its effect in the future, and my investment will be worth it. Don't you want to treat yourself to it?
Author: Dominus Berlin - posted on 01/28/2020